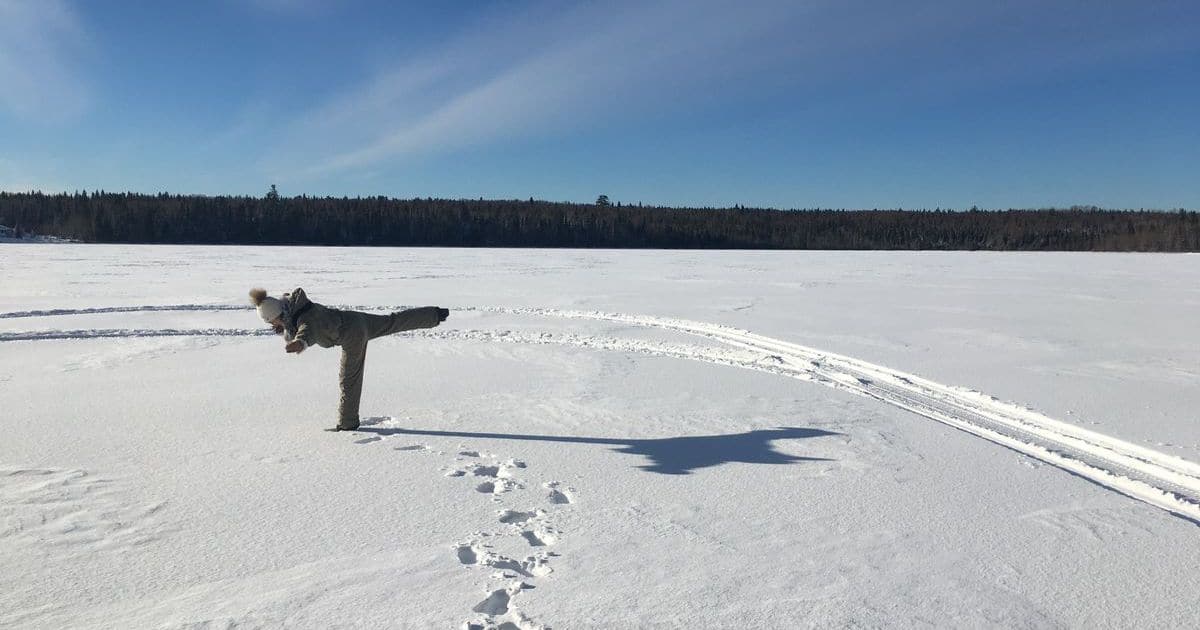 Pilates, yoga and meditation retreat for women – March 2020
Disconnect to reconnect!
Reconnect to your inner strength where your well-being is your only focus.  Regenerate your mind, body and soul during this silent retreat reserved for women only.  This retreat includes daily yoga, pilates, meditation, walks in nature, and delicious vegetarian food.  Your "soul" objective is taking care of yourself.
Transformation : A winter retreat for women. With Brigitte Robitaille & Jodie Duplisea, March 13-15. Kio-O, Ste-Lucie des Laurentides.
Imagine being submerged in the fresh clean air of the Laurentians while resting your mind, body and soul in the peace and tranquility of nature.  Whether you're a mom surrounded by noisy kids, or you suffer from chronic pain, you're dealing with grief or loss or you're managing a business, everyone deserves a moment of rest.  Bask in the beauty of the mountains, trees and lakes that surround Kio-O. Without any of your daily distractions and obligations, only the peace and quiet of the surrounding nature.
After daring to put yourself first, you will feel more rested, more present with your family, more able to handle stress at home and at work. You might even find that you smile and laugh more…how awesome is that?!
Are you burnt out and exhausted?
We know what you're feeling! You need a break, you need a sacred space without distractions to quietly and find your inner peace.  This retreat will nourish your soul, body and spirit in order to reconnect with your inner self.
Are you ready to reconnect?
Let us guide you to your reconnection.  During our women's retreat, you will be far from distractions, noise and obligations.  This quiet moment and break from your daily grind will help you find your inner wisdom in order to be the best version of yourself.
Isn't it time to prioritize your well-being?
With the combination of daily pilates, yoga and meditation, you will reconnect with your inner self.  You will rest, you will realign your body, your mind and your spirit.
A winter retreat, all-inclusive, for women. Escape to nature to revitalize your mind, body and soul.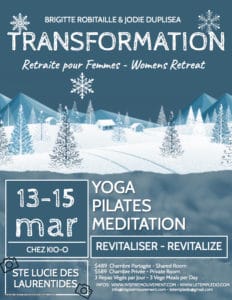 Single room, all included
589$
Shared room, all included
489$
What's included
3 days, two nights accommodations at Kio-O
3 meals and drinks per day
Free time to benefit from nature
Daily pilates, yoga and meditation
What's not included
Transportation to Kio-O
Extra spa services
Delicious meals
Kio-O is known for its delicious healthy meals…and the best part – you'll be able to just relax while it's being prepped!  Specializing in vegetarian cuisine, vegetable based protein, fresh vegetables, and locally sourced foods.
All meals are served buffet style, where you serve yourself and then everyone is responsible for their own dishes. It's easy and friendly. People with allergies/intolerances are asked to mention this during reservation.
Pilates with Brigitte Robitaille
Brigitte is a mother, a teacher-trainer, a massage therapist, a presenter and passionate about the human body!  When she's not seeing clients or training the next future pilates instructors, you'll find her with her two sweet girls and husband – preferably in nature.  Her 14 plus years as a pilates instructor, instructor-trainer and massage therapist have made her realize that by connecting to our body, our breath, our spirit, we can greatly improve our health.  Her holistic approach helps her clients find their mind/body connection in a calm and down-to-earth environment. Since the birth of her first daughter, she's developed a keen interest in women's health, particularly pregnant and post-partum women. She offers classes and workshops in Montreal and its surroundings and she's so excited to offer this special retreat for women.
Yoga with Jodie Duplisea
Jodie is a mother, a therapist, a teacher and a shaker!  Outside of work, she loves music, moving and travelling. She started practicing yoga in primary school after a serious gymnastics injury. Knowing the power of the body to heal itself naturally, she dedicated her professional life to studying and teaching some of the best natural healing techniques and helping others face stress and pain with lightness and joy.
She's been practicing yoga for over 35 years and has studied yoga, massage therapy, water-therapy and Chinese medicine. She treats her clients holistically, considering the mind, body and spirit.  She offers massages in Montreal and yoga and water-therapy in Val-David. As a busy mom running her own business, she is so happy to offer this silent retreat for women so that they can find their inner calm.
Meditation with Jodie & Brigitte
Silence is the language of God, all the rest is poor translation. - Rumi
Jodie and Brigitte have been practicing and guiding meditation for years and they're very excited to share their techniques with you.
Meditation has many benefits to your health and is an effective way to diminish stress and keep a healthy lifestyle.  With practice, meditation becomes a habit that's easy to maintain and its benefits are felt more and more. Over time, you become better able to handle stressful situations.
Taking the time to learn and practice meditation can truly transform the way you handle stress in your life.