Is it just me?
When I was living and travelling in Asia, I did a 10 day Vipassana meditation in Kathmandu, Nepal. For those of you who aren't familiar with this meditation retreat, it's 10 rigorous days of meditation, in silence, no moving allowed, not even to swat a fly, without eye contact, without the right to workout, read, write, sing, draw, etc. We had to wake up at 4am, everyday, start meditating, first meal was at noon, with 10 hours of meditation and lectures each day.
Needless to say, it was intense.

I remember sitting during one of the meditations, around the 4th day, thinking, holy shit, this is really f-ing painful. I'm achy all over, I can't sit still, it just hurts so badly. Plus, I'm separated from my then boyfriend (women and men are segregated), which means that I can't blow off any steam nor can I even have any contact with him. I was with complete strangers, feeling alone and frustrated.
As I'm doing my best to ''meditate", I'm secretly looking around at all the people around me, thinking to myself: they all look so peaceful and as though this is a walk in the park. I'm wondering to myself: is it just me who finds this extremely difficult? Am I the ONLY ONE in this much pain and discomfort? I'm not sure I'm going to come out of this alive!!!!
And then it happened.
I'm not sure if the universe felt my pain but right then and there it gave me exactly what I needed.
The gift of reassurance, of comfort, of hope…and the gift of knowing that IT'S NOT JUST ME, I AM NOT ALONE.
Just when I needed it most, here's what happened next. A woman a few rows behind me starts screaming and screaming and she wouldn't stop. She sounded like she was in so much pain, so much suffering. Someone came to try to calm her, but they could barely refrain her. When they finally got her out of the room, we could still hear her screams and wails.
Part of me felt so sorry for her but you know what…a huge part of me felt… relief. Relief in knowing that I wasn't alone in my suffering, that others too found this hard.
All of a sudden, I felt like I could breathe. I don't remember if I let out sigh, but thinking back on it, it seemed the appropriate thing to do.
As of that moment, things started to go a little better. I'm not saying it was easy, it was probably one of the hardest things I've ever done, but did I ever feel different after this experience. I managed to finish my 10 days and not to sound cliché but it truly changed my life.

I share this slice of my life's journey because when I first gave birth, I found myself feeling similarly to how I felt when I did my meditation retreat – Is it just me? Is there something wrong with me? Am I the only one having a hard time, crying, doubting, peeing her pants? Well, it turns out no. And it turns out, there are a lot of "me's" in the world. Once again, I had that same sense of relief I had 10 years earlier. Remember, don't always believe the thoughts in your head. Let them out because they can lead you astray.
Now that my eldest daughter is about to turn 10 and I think of those first few months of her life – losing a part of me and gaining another – the mother inside of me, I still wonder at times if it's just me, but then I come across an article or I speak to another mom and realize once again, phew, OK, it's not just me.
How can you help someone who is struggling? Reach out to a friend or sibling who recently gave birth or who you know is having a difficult time. Ask them: "Hey how are you, really?" Let them know that it's OK to feel what they're feeling, that they can share, without being judged, This can make a world of difference.
Despite us all having different journeys in life, I want you to know that so many other women are going through similar situations. And expressing it, allows one more person who is suffering to say: "Oh it's not just me. Phew." You'd be surprised when you let yourself be vulnerable how much it opens a dialogue, a sense of belonging, a sense of strength over fear. Sometimes people may look at you and think, geez she's got it all, everything is just perfect. And when you show that it isn't, people recognize themselves and feel safe to say that hey, things aren't perfect for me either.
Recently I'd been keeping something inside, something I was ashamed of, something that made me really sad but that I decided to keep for myself and to deal with all alone. And one night, out for dinner with two of my closest girlfriends, I just let it out and started to cry. My friend looked at me in relief, and without having to express it, I knew she was thinking: Oh, phew, it's not just me. She reminded me that no matter what, true friends will not judge, and will always be there to listen, to comfort, to support. I felt lighter after releasing some of the burden stuck inside.
You are not alone. Talk to someone and ''Scream and shout and let it all out''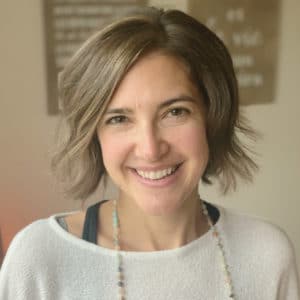 Brigitte Robitaille has been teaching pilates for over 16 years and loves sharing her passion about the human body and mind connections. She's been training the next STOTT PILATES© instructors for over 10 years and is passionate about sharing her knowledge to keen students looking for something deeper. She teaches in Montreal and Rosemere, Quebec and most recently by Zoom! She focuses on prenatal, postnatal, kids and clients of all ages with specific needs and injuries. She hosts retreats for women and workshops on the pelvic floor and diastasis recti in Montreal and the North Shore. She also practices massage therapy, Brain-Gym and EFT/Tapping because if she can help people connect to the vessel that carries them everywhere all day long, she's happy 😊