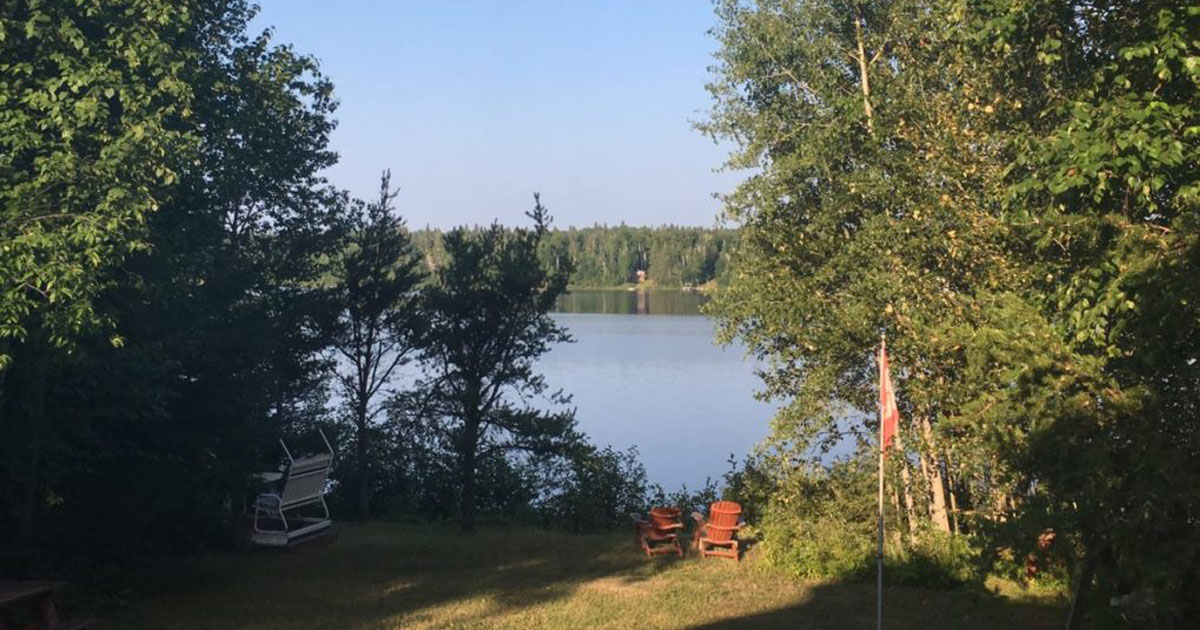 Nature
Some of you may know that I moved to a small town 2 years ago for a calmer environment near the water, surrounded by mature trees and a general sense of peace.
It hasn't been all love leaving my beloved Montreal (I was REALLY attached to Montreal and loved it!) but I would say that waking up everyday and looking at all the trees, flowers and plants and hearing the birds in my backyard instead of honking horns has been pretty magical.
I've been finding solace in just sitting in my back yard, typing out this newsletter or other computer related stuff. Besides typing on my computer in my backyard, walking barefoot is one of my favourite things to do.
My 5 year old keeps asking: Why are you always barefoot? Well my little darling it's because it's good for us!
She doesn't fully comprehend why but one day she will…I hope!). So when summer arrives I'm so happy to be able to walk around my backyard shoeless (something that only happens for a short period here in Quebec!).
Autumn=shoes=unhappy feet
Now that Autumn is here, it is also the return to foot confinement season. But this doesn't mean that our feet need to stay asleep until the next blooming of flowers. Simply get a tennis ball or a spiky massage ball to wake up your restrained tired feet. You can find the massage balls at your nearest dollar store or in a massage boutique or sports store.
The foot is fundamentally linked to the pelvis so when our feet have been confined to shoes all day long, it's difficult to use our feet to their maximum potential. But having mobile feet can free up the tensions in the hips and back and assure that our gait pattern is correct. When we carefully articulate through the foot, our hip joint is happier and even our pelvic floor! Yes! Working all the intrinsic muscles of the feet allows us to work all the muscles of the calves, thighs and hips and as a result our pelvis and pelvic floor are much healthier.
Stimulate your sleepy feet with the following massage.
Stand with your foot on the ball. Place it just under the big toe. Transfer your weight forward on the ball until you get to the heel. Do this with each toe until the entire foot has been massaged. You want to put a good pressure so that you get deep into the thick fascia of the foot (but of course you don't want tears streaming down your face either!). After, roll the ball quickly under your entire foot without putting much pressure. Take your foot off and feel the difference. Take a few deep breaths to enjoy these sensations in your foot, up your leg and maybe even up your back and shoulder. Do the other side to even out.
And if all of this seems too strange, at least find some green space where you can reap the benefits of Mother Nature. It is so soothing being in nature. In Japan, they call this Forest bathing (
Shinrin-Yoku
). It has been scientifically proven that it improves health – lowering heart rate and blood pressure, reducing stress hormones and boosting your immunity.
I actually did some forest bathing this summer – it's called CAMPING!
t had been over 10 years since I'd gone camping and despite the fact that the tent was damp and the out-house smelled like sewers I had an intense feeling of calmness. I remember returning from our camping trip feeling relaxed and joyful and even the damp tent didn't 'put a damper' on my experience! There's something about sleeping outside under the stars, doing the dishes while watching the trees blow in the wind that's extremely soothing – I can say it was one of the best dishwashing set-ups I've experienced! And yes it can be a drag to pack up the stuff and imagine the mosquitoes and icky sleeping arrangements but the benefits to my mind and soul are by far worth it! When our mind is calm, our body can be calm.
Massez les pieds c'est faire respirer tout le corps
If you suffer from anxiety, if you suffer from any pelvic floor issues, doing things to reduce your level of stress can help. Taking some time to reset, to breathe, to sit in silence, to be lulled to sleep by the sound of the swaying trees can be very healing.
Do it right now…even if you can't find a green space take a moment for 3 deep breaths…do it right now. Inhale for 4 seconds and exhale for 6. I'll wait don't worry……………………………………………………..
Feel better?
Continue if it felt great and see you next time!