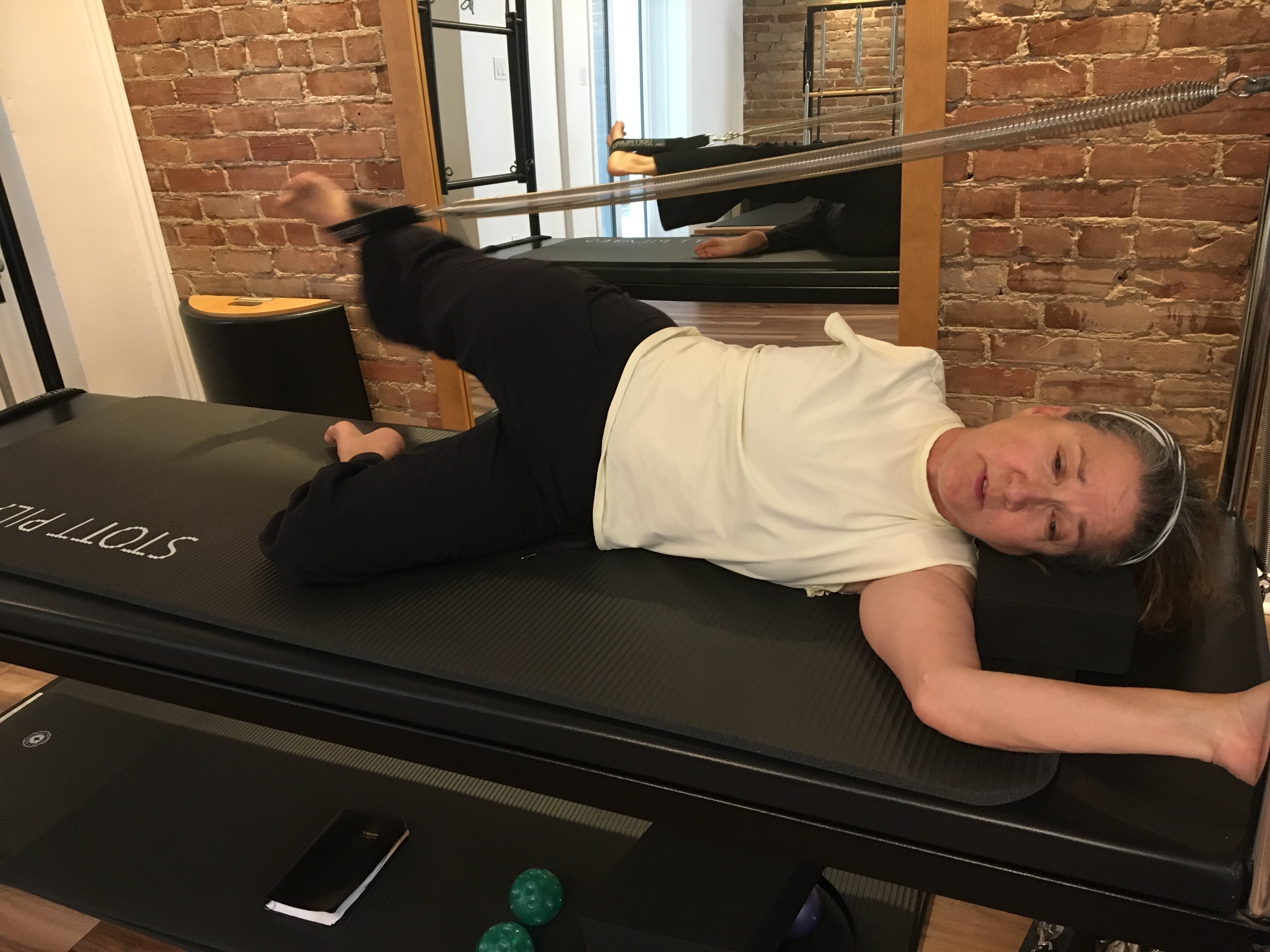 Not your typical pilates client!
This next story is a story of
hope
.  With everything that's happening in our world right now, I wanted to share a bit of brightness within all the darkness. The bright star of this story is my pilates client, Mara. She has been practicing pilates with me for over 10 years and each session I learn something new from her!
Here's her story…
Mara was a very active teenager who loved volleyball, canoeing, horseback riding, gym class and being outdoors enjoying nature.  She was also a very avid guitar player.  Nothing made her happier than practicing her favourite sports and her passion for the guitar. But then one day, all that changed.   As a result, a simple everyday habit like looking in the mirror for one final "crumb on my face check" would become one of the hardest challenges for this young girl.
Terrible news
At the age of 15 Mara would go through a deep sense of loss and uncertainty.  
In the early seventies, in the peak of her athletic teenage years, Mara started to notice pain and weakness in her right shoulder.  She could barely throw a ball anymore.  She visited her doctor who initially thought it was a muscular inflammation or a tear. I wish I could say that it was, however after a biopsy of her shoulder tissue they found a large tumor stuck in her right shoulder.  Every parents' worst nightmare!
At first, they thought it was a synovial sarcoma, which is very rare and very difficult to treat. They thought about chemo however it would be too risky for the heart. And since this was in the early 70s the medical interventions were not as sophisticated as they are today. Her medical team had to make a tough decision for this young girl.
Turned out, the least damaging option for this young girl was to amputate her arm and shoulder!
Accepting losing her arm
After coming to terms with this news (of course she wasn't jumping for joy!), she knew this was her only option to continue living a healthy life. Even if that meant living it differently than she was used to.
Up until the last minutes before her operation she played her cherished guitar.
After her operation, she had a lot of physical discomforts and phantom pains.  This is where she started to realize that she was different. Unfortunately, at that time, there wasn't a lot of psycho-social support. She was afraid of taking the bandage off and she couldn't bring herself to look into a mirror.
Eventually, she went to a multidisciplinary Rehab center with physios, OTs and doctors and that's when everything changed for the better.
One of the first things her doctor got her to do on her first day there was to face herself, literally standing behind her, encouraging her to look at herself in the mirror. She was scared and it was really hard to look at herself – her new self with only one arm – but as soon as she found the courage to do so, she felt all the anxiety leave her, she felt instantly better.    She saw herself.
"I'm still me", she realized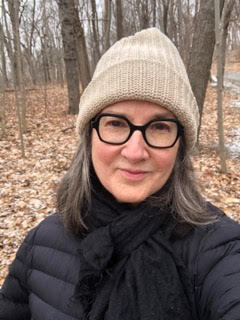 Many more challenges ahead
As a righty, Mara had to relearn how to write as a left-handed person.  She worked a lot on coordination and fine motor skills of her hand and arm. Learning to write was probably one of the biggest challenges and she got quite frustrated at times.  However, Mara was the type of person that loved challenges, she loved problem solving and this was no exception. She was a determined and strong-willed child and she was also lucky to have very supportive parents who wanted her to be independent.
One day, as Mara was trying to cut vegetables, she got discouraged.  She couldn't figure out how to cut a darn tomato with only one hand!  I mean, think of how you cut your veggies?  You use your other hand to stabilize your veggies right? So, seeing his daughter get so frustrated, her father built her a board with a bent fork in it so that she could manage to cut her tomatoes. Victory!!
You might wonder why she didn't use a prosthetic arm? It wasn't so simple for Mara because the entire shoulder was gone. Normally, you need a joint in order to attach the prosthesis to. Also, for her the most important thing was comfort and function, not looks. So she learned to do things using only her left arm as best as she could.
Sadly, this wouldn't be her last health challenge. At the age of 22, they discovered another tumor in her left lower lung.  Luckily, they were able to remove it along with parts of her left lung without needing chemo or radiation.  She got off "easy" this time however, things took a turn for the worse a few years later and she got very sick.  She was weak, had severe fever, pain and distention in her abdomen. They found a large necrotic tumor on her adrenal glands.  Now, she would need chemo.  Again, she would deal with another loss – her hair! And this time it was really tough on her body.  But thankfully the chemo worked! 
Getting moving again!
Following surgery and chemo her health started to return and so did her passion for movement. She began enjoying outdoor activities again such as hiking, swimming, jogging, cross-country skiing and even horseback riding.  The latter was probably the toughest because it required a lot of core strength and balance – something that would come in handy when she started her pilates years later.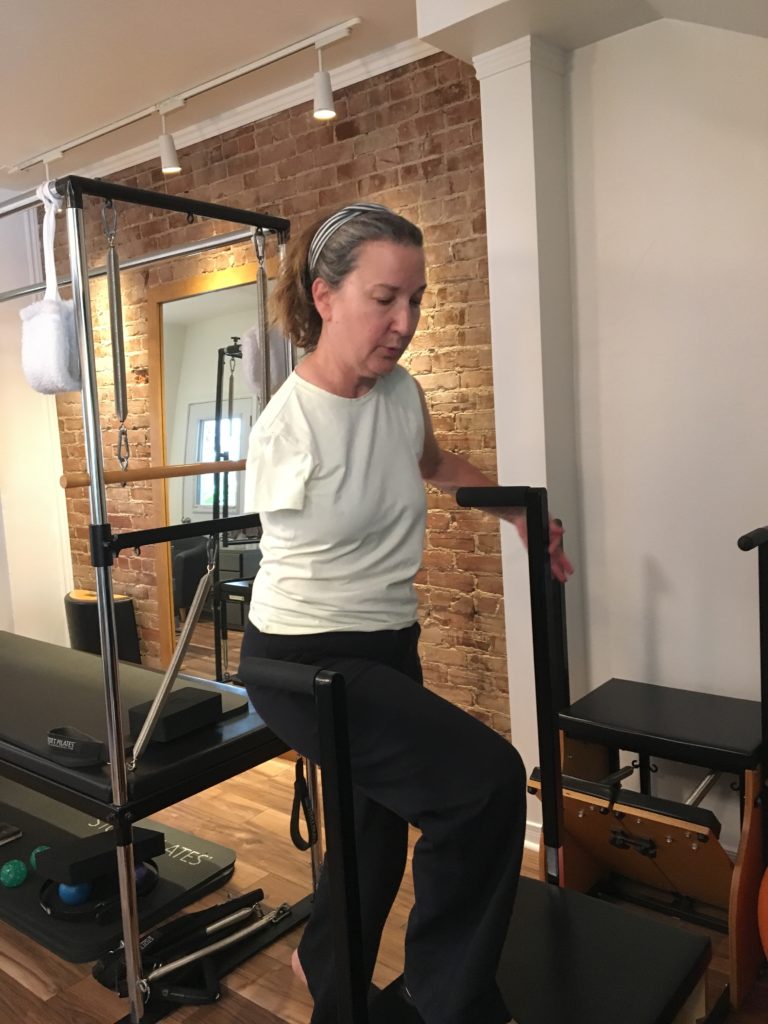 More confidence and stability through pilates
Mara has always felt more centered and stable when she has a strong core.  It seemed easier to achieve in her 20s and 30s but as she got older, she had to work harder to maintain that strength and stability. Her arm was also working double the time, so it was easily strained along with her back muscles. 
When she felt weak, she felt vulnerable.  
Almost a clean bill of health…except…
She started doing pilates in her 40s and she immediately felt that connection to her core and stability.  That sense of strength and stability she got from pilates made her feel confident and made her fall in love with pilates.
In her mid-forties however, she was diagnosed with severed osteoporosis, which totally took her by surprise. Having been cancer free and healthy since the age of 25, she believed that eating well, without processed foods, and staying active would keep her healthy and strong.  She learned however that the chemo she took for her cancer in her 20s pushed her into early menopause and likely caused the severe osteoporosis.  She had the hips of an 80 year old! She was put on osteoporosis medication, was encouraged to walk (not jog) and keep up with her pilates. She also threw out the high heeled shoes and flip flops for better footwear to reduce the risk of falling and injuring her hips.
Finding the right pilates instructor
When she was looking for the right pilates instructor, it was important for her to find someone she could trust, who had the expertise and a certain curiosity and ability to think outside the box – Mara isn't your typical client as you can imagine!
"In my experience, people who meet me initially very often see a person with one arm first and they see limitations. They look at what I can't do versus what I can do. It's natural. I was really concerned about finding someone who would not be intimidated, who could customize a program that would provide a well-rounded repertoire.  In meeting Brigitte, I knew at once I had found that person. Brigitte had the right energy, positivity, knowledge, and creative thinking to help me.  I wasn't wrong. Brigitte pushes me when I need it and at the same time spots me very carefully, with quick corrections. She offers seamless cueing to get me through the exercises.  This allows me to focus on the routine in a relaxed, safe manner."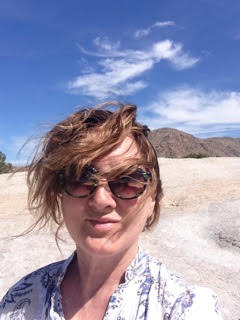 Finding the right pilates program 
In working with Mara, I make sure to discuss her goals and design a program that focuses on core strength, balance and strengthening all the little muscles and areas that tend to get ignored in your typical gym routine – lots of foot, ankle and hand work. I'm able to push Mara because her core is so strong and I even sometimes forget that there are exercises that she can't do!
From the moment she walked into the pilates studio I knew she would be a challenge worth taking on – Mara isn't the only one that is driven by challenges 😉
Whenever I'm introducing a new exercise, I will try it on myself prior, using only my left arm so that I can feel what it's like.  And other times I figure it out on the spot and together we manage to find a creative way to make it work.    My main focus was not on her not being able to do things but how I could still challenge the inner athlete in her while being mindful of using appropriate modifications for her situation. We even managed to do the Back Splits on the reformer using some props!
Pilates pre and post COVID19
Prior to Covid19 I used a lot of stability chair, Cadillac and Reformer exercises to add extra resistance. Simple adjustments like adding a soft padding on her right side against the shoulder rest makes things more comfortable for her. Also, staying nearby, with a helping hand, during balance exercises makes her feel safe and confident. Now that we're doing it online, I am still able to challenge her in different ways. I focus on strengthening her hips by doing lots of standing exercises to add load, using small equipment like the Flex-Band and Fitness Circle to add resistance and using the mini stability ball and foam roller to work on balance, core strength and mobility.
I target the deep stabilizers of her joints and deep core muscles while doing mobilizations and gentle releases. This allows Mara to move more fluidly and confidently in her daily life. One main goal of pilates is to make everyday tasks more functional and more fluid…And that gives Mara great confidence and a tremendous sense of well-being.
Breathing is healing
Pilates brings awareness to how we breathe and this is also a focus of mine while working with Mara. Through deep 3-dimensional breathing we access the underutilized parts of our lungs which allows us to have more freedom of movement, more inner strength and more calmness of mind.
"I am incredibly fortunate and grateful to have found Brigitte who has the depth of knowledge and the interest in helping me."
 And I always tell her how much she inspires me to think outside the box! She drives my curiosity and pushes me to find stimulating ways to make her feel strong, mobile and connected!
When you think you can't get through something, remember Mara's story. You may be surprised by your own inner strength that will help you get a tough situation.
And always remember to return to your healing breath.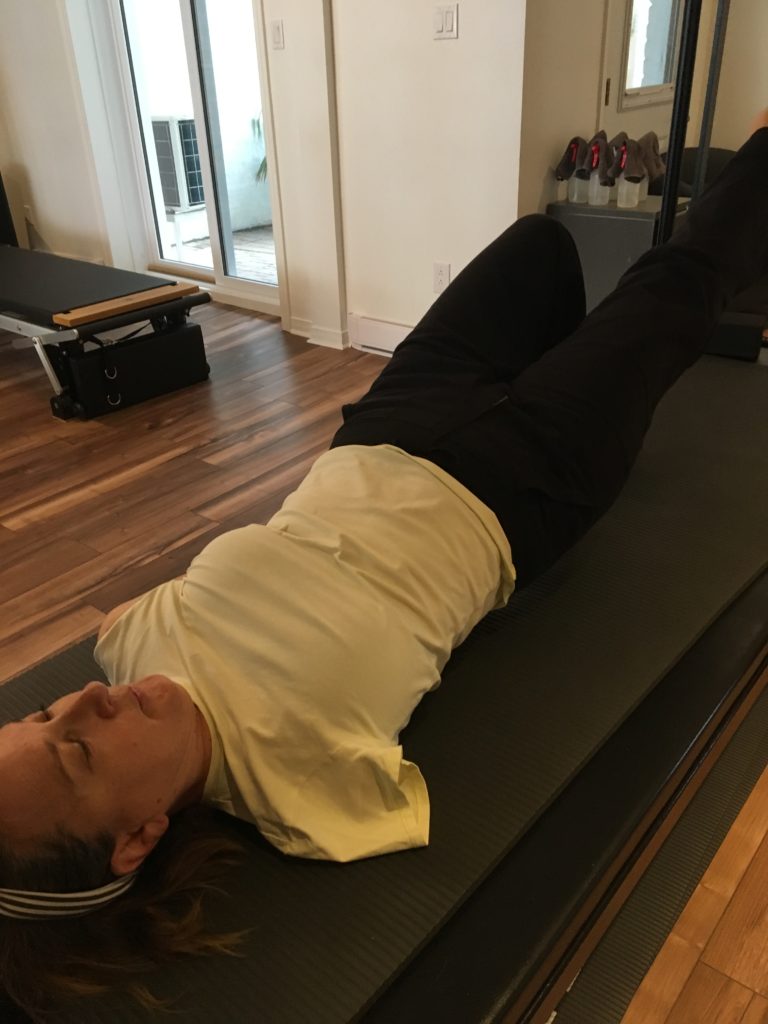 Author : Brigitte Robitaille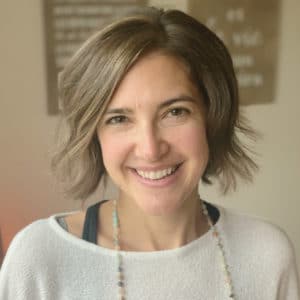 Brigitte Robitaille has been teaching pilates for over 16 years and loves sharing her passion about the human body and mind connections.  She's been training the next STOTT PILATES© instructors for over 10 years and is passionate about sharing her knowledge to keen students looking for something deeper. She teaches in Montreal, Rosemere, Quebec and most recently by Zoom! focuses on prenatal, postnatal, kids and clients of all ages with specific needs and injuries.  She hosts retreats for women and workshops on the pelvic floor and diastasi recti in Montreal and the North Shore. She also practices massage therapy, Brain-Gym and EFT/Tapping because if she can help people connect to the vessel that carries them everywhere all day long, she's happy 😊
Breathe, grow and let go,
Brigitte xx